SoulWork events center on spiritual discernment, nurture, and deepening.  Open to all spiritual seekers, workshops include themes such as Enneagram of body soul and spirit, engagement with the mystics, and introduction to contemplative life and spiritual practices. For SoulWork events and other retreats, download our 2018 Five Streams Brochure  
---
Scroll down to read about 4 upcoming events:
1. SoulWork: The Spirit of Creativity  Apr 5 – 8, 2018
2. Bursting Out! Monoprinting as a Spiritual Practice  Jul 16 – 20, 2018
3. Pathways Into Living a Contemplative Life: Aug 23 – 26, 2018
4. Spiritual Eldering  Sep 9 – 14, 2018
---
SoulWork

: The Spirit of Creativity
Bethlehem Retreat Centre, Nanaimo, BC
Thursday, April 5 – Sunday, April 8, 2018
"In the beginning, God created …"  So begins the great epic of the universe as described in Judeo-Christian writings. Creativity is woven into the very nature of God. As human beings, created in God's image, we share that quality.  You are invited to join Nan Goodship and Murray Groom in an exploration of our creativity through contemplative spiritual practices and art making. You will be in the company of others in the quiet and comfort of  Bethlehem Centre in Nanaimo, British Columbia.
In this safe environment, we will explore what the creative process looks like for each individual. As we seek to open our sense of how to live creatively, we will discern what inhibits us and what inspires us.  Through silence and conversation, being and action, we will delve into our individual motivations toward creativity and lay the foundation for more openness toward the creative spirit in each of our lives.  It is important to note that while we will be using art as a basic metaphor and medium to experience creativity, we will encourage an understanding of how creativity is active in every area of our lives.
Outcomes:
• to explore and expand our understanding of what creativity is
• to understand what inhibits and motivates us around acting creatively
• to discern what the creative process feels like for each individual
• to experience the way in which attention and awareness are an integral part of the creative process.
Cost:
Early Bird Registration – Residential $545. Includes tuition, materials, accommodation and meals (3 nights).
Early Bird Registration – Commuter $365. Includes tuition, materials and meals (3 meals per day for 3 days starting with dinner on the first day).
Register at the Bethlehem Centre here
---
Nan Goodship is a professional artist, retreat leader, and spiritual director trained in the Pacific Jubilee Program. She considers herself an ecological artist, a lover of community life, and someone who brings a contemplative and playful interest to creative life. Recently graduated with a Masters of Fine Arts in Interdisciplinary Arts, her research included creative process, something she is excited to share with others.
Murray Groom is an ordained minister in the United Church of Canada. He is a graduate, former staff member and one time interim Director of the Pacific Jubilee Program in Spiritual Direction. He is a practiced spiritual director and regularly co-conducts extended Pacific Jubilee silent retreats at Naramata Centre in the Okanagan Valley.
---
Bursting Out! Monoprinting as a Spiritual Practice
July 16 – 20, 2018
Naramata Centre, Naramata, BC
Led by Julie Elliot
Monoprinting falls somewhere between painting and printmaking. The beauty of this process is an inherent "brand-new something" in every moment. It's a process that encourages letting go and letting be. In that way, it helps us let go of our need for control – allowing something new to emerge – something better than we could have imagined in the first place. It's all about being present to what is and working with that.
We'll learn new techniques each day and many options will be offered so you can "burst out and see" your own unique creations. Be delighted as you discover the distinctive colours, textures, shapes, and lines that show up in monoprints. We'll be inspired by the beauty of Naramata Centre as we make use of botanicals (leaves, weeds, grasses, and flowers) along with other found objects.
Absolute beginners are welcome, as well as more experienced artists. Everyone will work at their own pace and depth.
When: Monday to Friday – 9:00 am to 12 noon each day
Where: Naramata Centre, Naramata, British Columbia
Who: ages 11 and up
Cost: $250 for 5 mornings of instruction + $40 for art supplies. All supplies are included.
Accommodations: Visit the Naramata Centre website here
Register: at the Naramata Centre website here
If you would like more information, email julie@pacificjubilee.ca or phone 250-317-0896.
---
Julie Elliot is a printmaker, painter, spiritual director, and retreat/worship leader. She has taught art classes for over 30 years and is excited to offer this event at the beautiful Naramata Centre. Julie has a gift for putting participants at ease and inspiring them to enter into the process. Her leadership style is casual and approachable and that brings out great art in participants!
---
Pathways Into Living a Contemplative Life
Aug 23 – 26, 2018
Rivendell Retreat Centre, Bowen Island
Led by Margie Savigny and Tim Scorer
Watch this spot for more information
---
Margie welcomes being in community with others! Her deepest knowing is that our soul life longs to be attended to. Offering openings and places for this work to happen, shapes her retreat work and spiritual companioning practice.
Contemplative living has become a resource to coming home to our true self, our Holy Spirit. Showing up for intimate and honest conversations creates places where those longings can be caringly attended to. Margie pursued the two year Pacific Jubilee Program after completing a Master of Arts in communication. Her research for her masters revealed, through reflective practice, people's well being comes from being listened to and responded in ways that bring them more fully in touch with who they truly are and long to be. She invites the opportunity to engage with others to do this work!
---
Spiritual Eldering
September 9 – 14, 2018
Naramata Centre, Naramata, BC
Led by Lois Huey-Heck, Jim Kalnin, Tim and Donna Scorer
Let's ensure that the decades following the years of paid work and homemaking are a time of creativity, engagement, mentoring, and compassionate accompaniment. After all, that could be a third of our lives! Let's build a culture in which aging people learn what it means to grow into eldership, a time of life in which experience and wisdom become a resource and gift for community. As a group of people 55 and older, we will spend time together listening, remembering, exploring, practicing, and creating as we become the kind of community that will make this kind of difference in our kind of world.
The Spiritual Eldering Program runs in the mornings and evenings, with afternoons free.
For participants aged 55 and up.
Cost: $475 for the program and $20 for supplies. Register at the Naramata Centre website here.
---

Tim and Donna Scorer
lived for 27 years in close relationship with the Centre where they learned and practiced the art of experiential education, facilitation, and mentoring. Now living on Bowen Island, Donna works closely with refugees and in community development and Tim offers
spiritual accompaniment
to individuals and faith communities that are living through times of deepening and transition.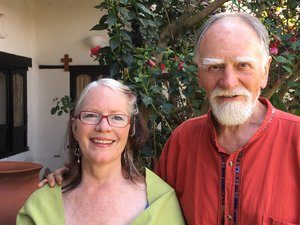 Lois Huey-Heck is a mentor with the Pacific Jubilee Program, focused on spiritual formation, soul development, and the art of spiritual direction. She is an also an author, a a leader of silent (and talking) retreats, and a spiritual director.
 Jim Kalnin and Lois have settled back into their sanctuary home in Oyama, BC after a few years in residence at Naramata Centre. Their shared passion is visual art and the pursuit of beauty in all its diverse expressions, which Jim pursues in the garden as well as his art studio.