Spiritual Eldering
September 9 – 14, 2018
Naramata Centre, Naramata, BC
Led by Lois Huey-Heck, Jim Kalnin, Tim and Donna Scorer
Let's ensure that the decades following the years of paid work and homemaking are a time of creativity, engagement, mentoring, and compassionate accompaniment. After all, that could be a third of our lives! Let's build a culture in which aging people learn what it means to grow into eldership, a time of life in which experience and wisdom become a resource and gift for community. As a group of people 55 and older, we will spend time together listening, remembering, exploring, practicing, and creating as we become the kind of community that will make this kind of difference in our kind of world.
The Spiritual Eldering Program runs in the mornings and evenings, with afternoons free.
For participants aged 55 and up.
Cost: $475 for the program and $20 for supplies. Register at the Naramata Centre website here.
---

Tim and Donna Scorer
lived for 27 years in close relationship with the Centre where they learned and practiced the art of experiential education, facilitation, and mentoring. Now living on Bowen Island, Donna works closely with refugees and in community development and Tim offers
spiritual accompaniment
to individuals and faith communities that are living through times of deepening and transition.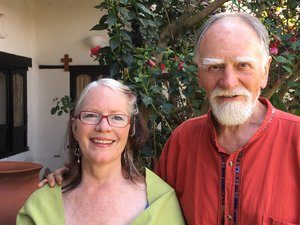 Lois Huey-Heck is a mentor with the Pacific Jubilee Program, focused on spiritual formation, soul development, and the art of spiritual direction. She is an also an author, a a leader of silent (and talking) retreats, and a spiritual director.
 Jim Kalnin and Lois have settled back into their sanctuary home in Oyama, BC after a few years in residence at Naramata Centre. Their shared passion is visual art and the pursuit of beauty in all its diverse expressions, which Jim pursues in the garden as well as his art studio.